Ok, so I have logged into work, and either they are slow. Or the system is broken. I have had one call in the last 15 minutes, and well I like it that way! Anyway I guess, I spoke too soon just had a call.. LOL... but anyway!
Christmas for all the stress and the crazies I had going along with it, was wonderful. My parents were able to fly in on Christmas eve, thank god! Jack was just as bad as any little kid with christmas. Maggie made the smalles noise around 6.30, one that i would have normaly rolled over and went back to sleep for. But nope Jack had decided that the baby was up and christmas needed to start. He was jumping around like a 9 year old, wanting to give everyone their presents. It was very refreshing to see him have that much energy and excitment. He has been having a bout of depression since being laid off so early this year.
Maggie loved her persents, espically the toy box that Santa brought. She honestly tried to crawl in it first thing. It is a little too tall for her to do that though. She was also happy to open the present under the tree that had been making noise and flashing at her for the past 2 days. I had to rip it out of her hands twice on Christmas eve, causing many tears.
After doing presents with Jack and Dennis, we headed over to my mom and dads house. And did the present thing all over again :). This is where santa left all the good stuff.... LOL. My parents honestly got maggie a ride on zebra thing.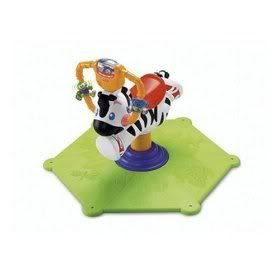 Since santa is too busy to wrap presents for our house he had just placed it in her pack and play there. I have never seen her try to climb into the pack and play before. It was good fun had by all.
Well work has picked up so I will post more later.