A friend of mine from college and her wife just adopted a new baby on monday. And since I have been a bad blog reader as of late... I didn't have anything prepared to send. So I whipped these up yesterday.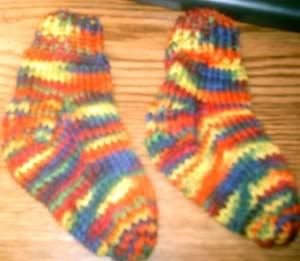 Using the barefoote (i think that is the name, same company as lambs pride) rock and roll colorway! Come on tell me what baby of 2 very out and proud ladies doesn't need her own rainbow socks! I love them! I am thinking i need to make my self a matching pair.
I also finished up a pair of socks for me yesterday.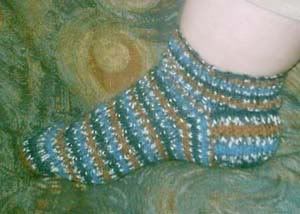 Just some Lion Brand Magic strips there. not my fave yarn in the world but it doesn't make a bad sock. I just wish it came in more colors.
And then I casted on my first Jaywalker EVER!!!!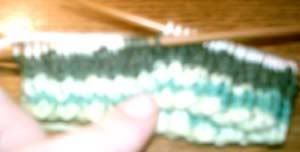 I know I know no zig zagging as of yet. But it will be coming soon. That is Regia yarn. First time I have worked with it we will see how i like it.